When people think of commercial building construction, the thing that immediately comes to mind is an ivory office tower built somewhere on an urban landscape. But commercial construction involves any non-residential complex, including a sports facility or an arena for a favoured local sports team.
For that reason, many of the items on a commercial construction checklist are applicable for an indoor sports facility construction project. Standardized construction guidelines will help your project managers, construction crews, architects, and all involved parties develop a proven model to get the job done as quickly and efficiently as possible.
So what are some of the items on this checklist? Let's look into that.
What are the indoor sports facility construction costs?
Before the work can get underway, you need to consider everything that goes into developing an indoor sports facility. Specifically, you need to forecast the estimated costs of the development so that you can prepare for what lies ahead.
Financing
First thing's first, you need to figure out how to raise capital for the venture. It goes without saying that building a sports facility is not cheap. It often involves many investors pooling their money together to finance the construction of the facility.
There are many financing options available to support your plans. Depending on the nature of your business, you could qualify for public grants that support non-profit organizations. Additionally, you can secure private investors and/or bank loans. This could help raise enough capital to pay for the construction. In any event, research the option that best suits your goals with the facility. Only by doing this can you proceed with your plans.
Regulations
Depending on the location you select for the facility, you'll need to abide by government regulations to ensure the building is fully up to code. In Ontario, for example, there are clear regulations for sports and recreational facilities that owners must follow to remain in compliance with the laws of the province.
Beginning in 2020, as a result of the global coronavirus pandemic, the guidelines have several new regulations. They demand that sports facility owners and managers follow strict health and safety protocols aligned with the social distancing rules implemented to ward off the pandemic. Many of these guidelines will remain in place even after the worst of the pandemic has passed. Of course, this must be taken into account as you map out your development plans.
Construction time
Time is one of the biggest investments mandatory for building an indoor sports facility. Before you begin undertaking that goal, brace yourself; this is a long project. At minimum, you can expect up to two years of construction work before the facility is complete. Other projects can take upwards of three years or more to complete.
Due to the significant amount of time in this type of project, it's not uncommon for project managers to recommend development processes that accelerate the timetable. Design build construction allows the various phases of the development to proceed in tandem with each other rather than sequentially. This allows design work, pre-construction, and sourcing of parts and labour to proceed as the plans are solidified by building owners, investors, project managers, and commercial managers.
Operational costs
Finally, you need to prepare for how much it will cost to maintain the daily operations of the facility. These include things like heating costs, cooling costs, lights, sound systems, security, and all the other amenities that are part of the sports facility experience.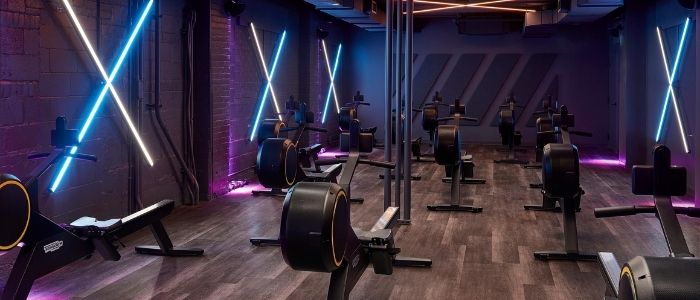 Deciding on cover only vs. fully enclosed sports facility
As part of your development plan, you need to think about how to enclose the facility. Much of these decisions will depend on the location of your facility. Likewise, the types of sports that visitors will play in the venue.
If you select a cover for only the field or the pitch, a seasonal dome can protect the field area from the elements. These are air-supported structures that protect the grounds during the cold winter months, which also allow people to train under the dome during the offseason. When the warm weather returns, the dome can undergo removal and be available for the entire summer sports season.
On the other hand, a fully enclosed sports facility is a more secure option that protects the entire establishment. It's a more expensive and permanent option for your development, but it also stands out to passing motorists and pedestrians. In addition to providing safety and security for the facility, it acts as a promotional gimmick in and of itself.
Of course, there's also the hybrid option that provides the security of a fully enclosed sports facility with the option for a retractable dome over the open field. A perfect example of how this could look is the Rogers Centre, or the SkyDome, in downtown Toronto.
Indoor Sports facility construction location
Location is critically important to any commercial construction project, especially when the development is an indoor sports facility. You want to find a location that's close to the highways, accessible from public transit, and in a location that will always have foot traffic in and around the area. This is the best way to keep the business booming.
Selecting the right location is one of the biggest decisions in the planning phase of your project. You need to conduct an environmental assessment to ensure the grounds are safe to have people coming and going every day. Then, you need to apply for the right permits to build the facility on that specific location. Finally, you want to ensure that you're not surrounded by direct or indirect competitors. Specifically, those who could syphon business away from your establishment. All of these factors influence how, when, and where you decide to build.
Final thoughts
Deciding to build an indoor sports facility is a massive undertaking. It requires a lot of planning, partnerships, preparation, and perseverance to see the entire project through from start to finish. But, when it is complete, you can be proud to have contributed a building that will add great monetary and cultural value to the surrounding community.
For projects of this magnitude, it helps to hire the right consultants who provide industrial expertise to ensure the facility is developed in the right way. The best consultants also have business acumen and negotiating skills to help you find the best developers to assist you. Get in touch with the experts at (905) 696-0486 or email [email protected] for more details.